Dangers Of Do-It-Yourself(DIY) On Electrical Work
Do-it-yourself projects around the house are a great way to improve the value of your home. When done correctly, it will improve your health and creativity while also being a cost-effective method of increasing the value of your home. However, there are some tasks that require the assistance of a professional, such as electrical installation, repairs, or upgrades.
Even with experience, there is usually room for error during electrical repairs, which can result in serious consequences such as fires, electrocution, and death. Furthermore, saving a small amount of money is not worth the risk. The risks of doing your own electrical work are discussed below.
What Are the Dangers of DIY Electrical Home Repair?
The following are some dangers that show why it is best to leave DIY(do-it-yourself) residential electric service to professionals.
Typically, only one electrical home repair error can result in a fire, making DIY electrical work extremely dangerous. Furthermore, this can result in extensive electrical shortages in your home as well as electrocution for those nearby.
The following are some of the electrical mistakes that DIYers frequently make, which can lead to electrical fires.
Restoring the incorrect light and using the wrong voltage.

Use of incorrect fuse dimensions: when using a giant fuse, it will pose a fire risk.

 

Irregular electrical wiring can lead to extensive short-circuiting that can cause a fire.

Use of an unsuitable switch and faulty outlet installation
Furthermore, if you lack electrical experience or expertise, you should avoid DIY electrical home repairs and instead hire professionals.
Most people who lack electrical knowledge and attempt DIY electrical home repairs run the risk of electrocuting themselves and others. However, minor electrocution may have minor consequences, whereas severe electrocution can result in death.
Furthermore, the danger increases when working in high-voltage areas. Electrocution frequently results in serious injuries such as nerve damage, third-degree burns, and ventricular fibrillation.
Even if your main power is turned off, there is always room for error. As a result, it is critical that you hire an experienced electrician to complete the work for you.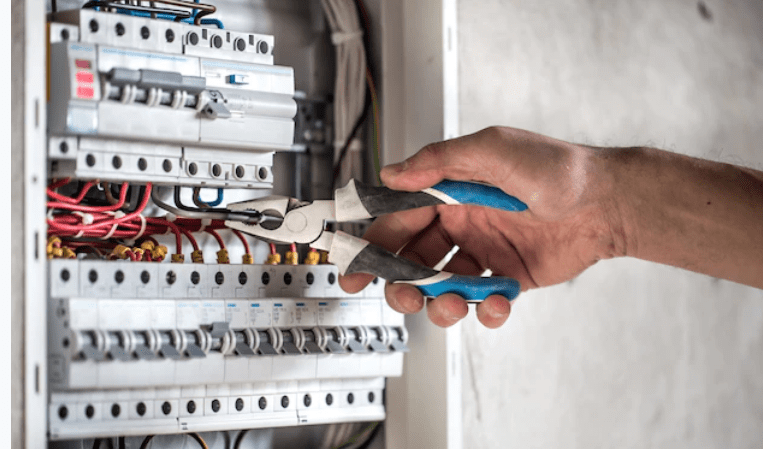 This is one of the primary reasons you should always hire or obtain the services of a professional to perform electrical home repairs or installations. They will ensure that the electrical wiring in your home or residential building meets state standards, such as construction codes or permits.
 When you DIY your electrical home installation, you put yourself at risk of violating the electrical safety codes for residential properties. Depending on where you live, this could result in significant fines and penalties.
4. Expensive and Unnecessary Repairs
DIY electrical repairs usually leave a lot of room for error. These mistakes occur because you lack knowledge and experience in the electrical services industry, and you have no guarantee that your work is correct. Furthermore, this will necessitate extensive repairs, which will be costly and financially draining.
Having professional work on your home's electrical services is important because it will save you money and prevent you from having to make unnecessary repairs.
5. Installation of the Wrong Electrical Products
Most people who attempt DIY (do-it-yourself) electrical repairs are unaware of the proper wires, switches, and outlets to use. Improper product use causes serious problems. In residential homes, for example, electrical installation typically includes critical components such as ground fault interrupters for electrocution protection and fire risks.
A ground fault interrupter is a one-of-a-kind sensor that prevents fires or electrocution when a faulty connection in your home is exposed to water. They are frequently used in:
Outdoor outlets

Kitchens

Bathrooms
However, most residential homeowners lack knowledge of these vital components and may end up replacing them with the wrong outlets, increasing the risk of fire outbreaks and electrocution.
6. Insurance Providers Do Not Cover Electrical Damage Expenses
When a fire breaks out in your home due to an electrical problem, your insurance company may refuse to pay for the damage, especially if the electrical repair and installation were not performed by a certified electrician or professional.
As a result, when considering making electrical improvements to your home, it is critical to hire certified electrical services rather than do DIY electrical work, which can have serious consequences, including the loss of your beautiful home and financial expenses.
7. Electricity Fails to Work Efficiently
When you try to fix your home's electrical problems on your own, you risk causing more damage. Some parts of your home may lose power, and you will be concerned about what went wrong. However, there are numerous DIY video instructions available on the internet. It is always best to hire professionals to do electrical work because they know how to fix them correctly.
DIY home repairs may be less expensive, but they pose numerous risks to you, your family, and your property. You will waste a lot of time and money on repairs in the long run.
Are there safe DIY electrical repairs?
Given the risks associated with electrical services, you may be wondering if there is a safe electrical service that can be performed as a do-it-yourself project. The answer is NO. l residential electrical services must be performed by professionals.
What to do when there is a major electrical problem?
When you have major electrical problems in your home, you should contact certified electricians or professionals right away.
Looking for Residential Electrical Services in Pearland, TX? Give Us a Call!
Humans are capable of incredible feats, but not everyone is an expert at everything. Experience in electrical repair and installation typically takes years. When it comes to electrical services in your home, it is always best to hire a professional electrician rather than attempt DIY electrical work, which is dangerous and can have disastrous consequences. Furthermore, these professional electricians will assess the wiring in your home, assist you in obtaining permits, and ensure that everything complies with building code standards.
At Residential Electrical Services, we take pride in our 30 years of residential service experience in assisting homeowners with their electrical system needs. We can install new outlets, add track lights, hang a ceiling fan, wire your house, and upgrade your outdoor lights or portable generators.
Call us today to schedule a free electrical maintenance estimate.