The ideal time to get the electrical system of your home checked is 5 years. But this number depends on how old your home is. A new home may function well for 10 years before the electrical system is checked. Therefore, a 100% inspection is mandatory every 5 years.
Five years is common for every type of house. It can be a residential or commercial building. Whatever the house type is, it needs inspection every 5 years. The second inspection depends on the result of the first inspection. If you live in an old house, you may need to check your electrical system every 3 years.
It is hard to know how old your home is if you live in a rented house. You can ask your landlord for the complete information about your house. Call an electrician if you can't estimate your house's age and have doubts about the electric system. After the first inspection, you will know if it needs frequent maintenance or not.
Call an electrician when you notice signs. But what are the signs that indicate your electrical system needs an inspection?
Signs Your Electrical System Needs Inspection
These signs will help you know that your electrical system needs inspection. You can notice these signs even if you have no prior experience.
New appliances can have a strange smell when it is initially used. The smell should go away after a while. But if an old cable starts smelling, it might be a problem. Switch off any electrical outlet connected to it and call an electrician.
Usually, you might notice a spark and noise when plugging into a socket. It is okay, but if the noise and the spark are consistent, there might be an issue. Track where the noise is coming from and unplug any electric cable it is connected to.
Lights in your house will start flickering if there is contact between electric cables. By calling an electrician, you can get this problem resolved.
A steady warmth when you touch a socket is normal. But if a socket or a switch becomes hot, you need to get it checked. When a socket supplies excessive electricity, a cable can overheat and burn. Get it checked before it burns and creates more problems.
Each room has a different socket based on what it is used for. The sockets that are used for bathrooms and bedrooms are different. That is because there are water and water pipes in the bathroom. Water and electricity should be handled separately. That's why particular outlets are used in rooms where water is frequently used. If your kitchen outlets are not special ones designed to resist water, you should call an electrician to check them.
Tripping Circuit Breakers
Breakers protect your appliances and your home from being directly damaged. The breaker trips when there is a problem in the outlets. Let's say the breaker trips when you turn on the lights. Pay attention to which appliance causes your breaker to trip. That means there is a problem somewhere on the line where you get the lights from. The same is true for other switches and sockets.
Extension cords are used when multiple outlets are needed. It's okay to use for temporary purposes. But finding a better solution other than an extension cord is safer. An extension cord can cause breakers to trip frequently. Avoid using extension cords for a long time.
How Much Does An Electrical System Inspection Cost?
The electrical system inspection cost depends on your house size and how you use the service. The cost ranges between $100 and $400 for your residential house. A typical electrical inspection means an electrician will thoroughly check every outlet, circuit breaker, and wiring in your home.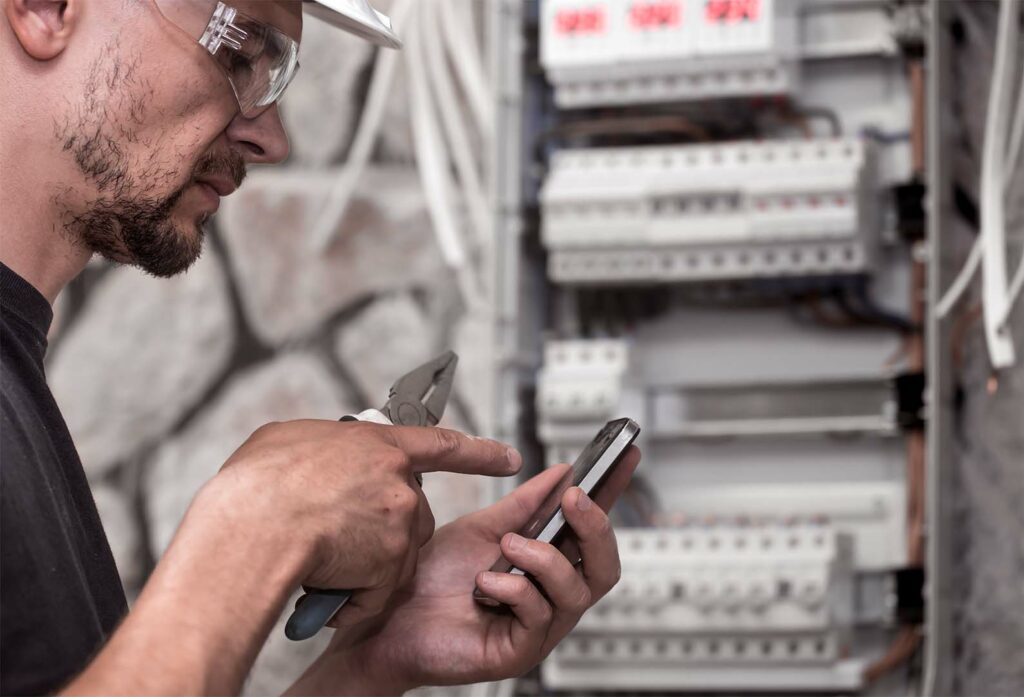 You can also get your electrical inspection when a home inspection is conducted. A home inspection includes HVAC, roof, and foundation. It costs around $340 for a home inspection.
Generally, a house should get its electrical system fully inspected every 5 years. You may forget the electrical inspection schedule when life gets in the way. And to be honest, it is hard to remember every five years.
A yearly inspection is right for you if you are forgetful or move a lot. You can get your electrical system 20% inspected every year. An annual schedule is easier to remember than a 5-year schedule. So which type of homeowner are you? Do you move a lot? Are you forgetful? Or are you living in a brand new home that doesn't need a yearly inspection?
Whatever the case is, you can choose the right inspection schedule for your home. We will assist you through the process.
What Makes Our Team At Residential Electrical Services Unique?
Whether you need help with your light switch, ceiling fans, junction boxes, or generator installation, remember that all it takes is one call with Residential Electrical Services. We are pleased to offer excellent service and advise you on how to avoid electrical issues if you have too many appliances.
If you are concerned about installing a new outlet, new circuits, or new track lights, our licensed electrician professionals are there to assist 24/7. Choose 80 years of experience in electrical service provision and call our team at Residential Electrical Services today.
Residential Electrical Services Is Here To Assist With Electrical Services in Pearland, TX, and Surrounding Cities
Do you need electrical safety inspections? How about electrical wiring help? Do you need electrical maintenance? Maybe you require installation services or electrical repairs? Some of our homeowners have questions about their service panel and copper wire insulation. Whatever the case may be, remember that our electricians can certainly offer electrical services that account for your electrical work.
Suppose you are looking for professional electricians who can offer quality services and meet your electrical needs, reach out to our team today to schedule an appointment. You can also get FREE advice on your electrical concerns!